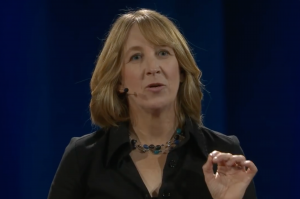 GENE EDITING CAN NOW CHANGE AN ENTIRE SPECIES -- FOREVER
Gene editing can now change an entire species -- forever | Jennifer Kahn - TEDTalks June 2016
CRISPR gene drives allow scientists to change sequences of DNA and guarantee that the resulting edited genetic trait is inherited by future generations, opening up the possibility of altering entire species forever. More than anything, this technology has led to questions: How will this new power affect humanity? What are we going to use it to change? Are we gods now? Join journalist Jennifer Kahn as she ponders these questions and shares a potentially powerful application of gene drives: the development of disease-resistant mosquitoes that could knock out malaria and Zika.
TEDTalks is a daily video podcast of the best talks and performances from the TED Conference, where the world's leading thinkers and doers give the talk of their lives in 18 minutes (or less). Look for talks on Technology, Entertainment and Design -- plus science, business, global issues, the arts and much more.
Find closed captions and translated subtitles in many languages at http://www.ted.com/translate